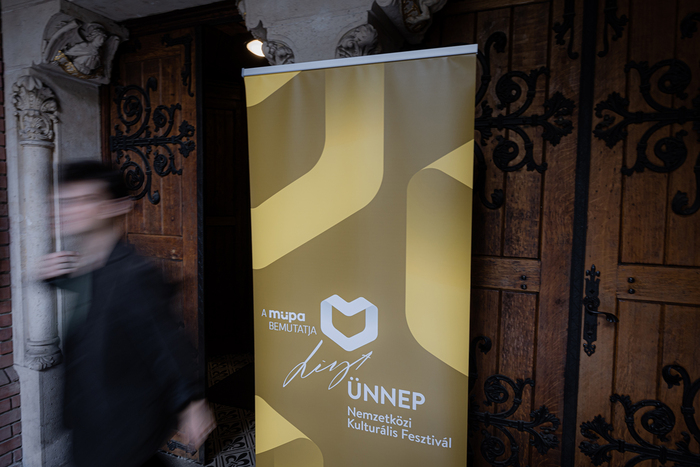 27. 10. 2022.
Celebrated stars of the national and international arts scene, a host of unusual collaborations and performances: this is what went on at this year's Liszt Fest International Cultural Festival
When Plácido Domingo wasn't reciting zarzuelas to standing ovation, the Janoska Ensemble wasn't bringing the house down, and Víkingur Ólafsson wasn't giving a memorable concert with the Orchestre symphonique de Montréal, there were cross-genre events, mini-festivals of popular music, theatre and dance performances, and premieres of contemporary works at the Liszt Fest. Held with unprecedented success between 7 and 22 October, the event series featured artists from Iceland, the United States, Austria, the United Kingdom, Germany and Australia, as well as some of the hottest names in the Hungarian cultural scene.
Organized by Müpa Budapest, the festival presented 218 events, including classical and contemporary music, jazz and pop concerts, opera and dance performances, exhibitions, walking tours, and literary events, awaiting guests at more than 20 venues. This year again, many of the performances were firsts, with six world premieres and three Hungarian premieres on the programme of the Liszt Fest. The Hungarian audience could see for the first time the Neue Oper Wien's Das Gesicht im Spiegel (The Face in the Mirror); Familie Flöz's take on the creation story, Hokuspokus; Kornél Fekete-Kovács's Senza Nome, a composition for jazz quintet and orchestra, which was a prize winner of Müpa's Composition Competition in the jazz orchestra category; and Out of Time, the haunting new production of dancer–choreographer Dóra Barta, winner of prestigious awards.
The event series featured a number of Liszt's compositions, as well as exceptional pieces inspired by the composer's life and works: at the opening concert in a packed St Stephen's Basilica, an arrangement of Via crucis was performed by internationally renowned jazz and classical musicians, including jazz singer Sherry Williams, soprano Lilla Horti, composer–organist Gábor Virágh András and organist Brian Charette. The Sacred Heart Jesuit Church hosted an organ marathon that lasted the whole day, with six concerts and a mass, featuring brilliant young church musicians and concert organists, while Kálmán Oláh treated his audience in the Liszt Academy's Solti Hall to reflections and paraphrases he wrote on motifs from the Faust Symphony and Dreams of Love. The concert entitled Liszt and Virtuosity approached the œuvre of the festival's eponym from the perspective of folk music; the anniversary evening of Studio 5 translated the most important stages of Liszt's life into the language of contemporary music; while Erika Miklósa and the Jazzical Trio performed jazz arrangements of such romantic songs as Oh, quand je dors.
The performances of new talents and established representatives of the international art scene attracted a large number of fans of popular music: the Akvárium Klub presented the mini-festival, Isolation Budapest, and the concert of the extravagant Hiatus Kaiyote, whose experiments span neo-soul and jazz-funk, while the Budapest Showcase Hub, the Eastern Bloc's club festival, enlivened Fészek Artists' Club and other popular Budapest venues. And those who like pop music could also find something to enjoy at the Margó Literary Festival and Book Fair, which moved to a new venue, the National Dance Theatre, where, in addition to the book launches and book signing events, they could recharge at the concerts of Henri Gonzo and Papírsárkányok, Magashegyi Underground and Platon Karataev. This year's Margó prize for the best first volume of prose went to Diána Vonnák; László Valuska chatted with last year's winner, Rita Halász in the Glass Hall of Müpa, at an evening where her work was presented by Zoltán Beck and Hanna Pálos. Péter Nádas, who turned 80 in October, was celebrated at the book fair, where Kata Tisza's volume, Hipnózis 6-kor (Hypnosis at 6) was presented at a musical staged reading, and Krisztián Nyáry's Így szerettek ők (That's How They Loved) was praised on its 10th anniversary. The visitors of the festival could meet such leading international authors as Mohamed Mbougar Sarr, winner of the 2021 Goncourt Prize, Cecilie Enger, who has been awarded major prizes in her native Sweden, and Maja Lunde, whose novels explore humanity's relationship to nature.
The Rajkó Orchestra celebrated its 70th birthday at a joint concert with the Budafok Dohnanyi Orchestra, in the presence of hundreds of enthusiastic listeners, in the impressive Ceremonial Hall of Pesti Vigadó, while the Hungarian Richard Wagner Society commemorated its 150th anniversary with the aria recital of Michael Volle, one of today's leading Wagner singers. At an unforgettable rendezvous of musical styles and cultures, the Flemish-Sinti Tcha Limberger, who speaks Hungarian well, and Lajos Sárközi Jr engaged in a friendly duel at the House of Music Hungary, where after the concert the two violinists were chatted up by folk musician and cultural anthropologist Márton Éri, much to the delight of the audience.
French accordionist Vincent Peirani and his band gave jazz fanatics a great time at the Opus Jazz Club. The leader of this very relaxed formation that moves between different styles with great ease, earned admiration with his unique performance mode, while guitarist Federico Casagrande and drummer Yoann Serra earned their fair share of applause with tremendous solos.
Although he has proven many times over that he owes his success to his own talent and hard work, Ravi Coltrane has long avoided planning a full-length production based on the œuvre of his parents, who are known the world over. 'I've been trying to avoid this all my life, but it had to happen one day,' he said of the programme that recently did materialize, and the audience applauded in agreement.
Budapest feels like home away from home, said Icelandic genius of the piano, Víkingur Ólafsson at his concert with the Orchestre symphonique de Montréal and conductor Rafael Payare, since he was visiting Hungary for the third time. At the closing event of the festival, in the packed Béla Bartók National Concert Hall, the pianist said Hungarians are very lucky to have such outstanding composers as Ferenc Liszt, Béla Bartók and György Kurtág, and he paid homage to them in the encore by performing a piece by each.
Bálna Budapest once again hosted Art Market Budapest, East and Central Europe's most important international fair and exhibition of contemporary art; in the lobby of Müpa Budapest, Listias, a selection of caricatures of Liszt was on view, while Ludwig Museum opened its new exhibition, Smaller Worlds – Diorama in Contemporary Art, which can be seen until 15 January 2023.
The Liszt Fest International Cultural Festival's own magazine was available online, and tens of thousands visited the official blog for articles on the performers and events. A selection of photos from the most memorable moments of the festival can be seen in the Liszt Fest's online gallery, and short films that recap the days can be watched on the official YouTube channel.
More news