Levente Gyöngyösi: The Master and Margarita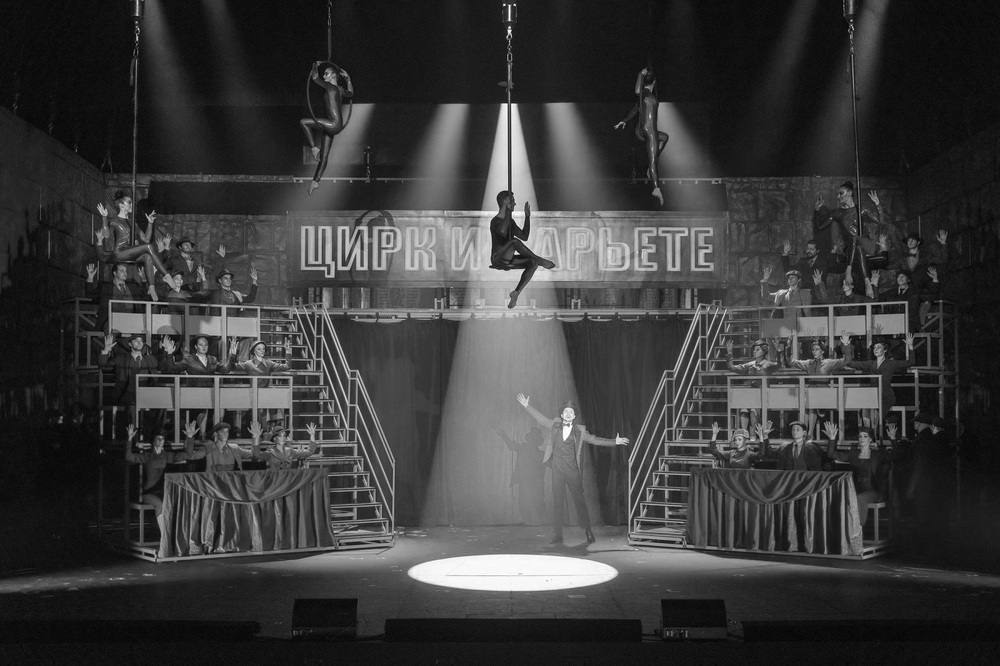 Levente Gyöngyösi: The Master and Margarita
Eiffel Art Studios — Miklós Bánffy Stage
9 October, 2021 | 7.00 pm
The Master / Jesua:
Péter Balczó
Margarita:
Orsolya Sáfár
Woland:
Péter Kálmán
Professor Stravinsky / Pontius Pilate:
István Kovács
Berlioz / Caiaphas:
András Hábetler
Ivan "Homeless" Ponyrev / Matthew Levi:
Gergely Ujvári
Korovyev:
Tivadar Kiss
Hella:
Laura Topolánszky
Behemoth:
Zoltán Gavodi
Annushka / Slave girl:
Alexandra Likovics
Latunsky / Judas:
Jenő Dékán
Policeman / Aphranius:
András Kőrösi
Head nurse / Ratslayer, a centurion:
András Kiss
Bosoy, Chairman of the House Committee:
Bence Gulyás
Nurse at the mental hospital:
Lusine Shahakyan
Master of ceremonies:
Balázs Csémy
1st nurse / Jimmy, a drunken vampire from New York:
Róbert Erdős
2nd nurse / John, a drunken vampire from New York:
Boldizsár Zajkás
1st man / Drunk / Monsieur Guillotine:
András Farkas
2nd man / An important comrade / Emperor Nero:
Balázs Papp
Young woman from the audience of the Variety Theatre / Lucre:
Gabriella Rea Fenyvesi
Charwoman:
Tímea Tímár
Featuring:
acrobats of the Hungarian Acrobat Association, former students of the Hungarian Dance University
Featuring on recorded soundtrack:
Hungarian State Opera Orchestra and Choir (choirmaster: Gábor Csiki)
Conductor:
Gábor Hollerung
Libretto:
Szabolcs Várady (on the basis of Róbert Bognár and András Schlanger's screenplay based on Mikhail Bulgakov's novel of the same title)
Dramaturgy:
Eszter Orbán
English surtitles:
Arthur Roger Crane
Set, costumes:
Kentaur
Lighting:
János "Madár" Madarász
Acrobats' choreographer:
Tünde Vincze
Circus consultant:
Péter Fekete
Musical assistants:
Kálmán Szennai, Balázs Kálvin, Levente Gyöngyösi, Sámuel Csaba Tóth
Ballet master:
István Kohári
Choreographer:
Lajos Péter Túri
Assistants to the director:
Katalin Lázár, Andrea Valkai
Director:
Vajk Szente
Satan turns up in Moscow, with an entourage of a speaking cat and other strange creatures. People start disappearing mysteriously, witches fly through the air, and suddenly we are in biblical times. The surrealistic story of Bulgakov's novel, The Master and Margarita, comes to life in a unique musical form in Levente Gyöngyösi's opera-musical: "I have long wanted to write a work that synthesizes diverse stylistic elements from contemporary and popular music. Something that is also accessible, thoroughly worked out and modern – an attempt at making boundaries disappear." Directed by Vajk Szente, who is at home in musical theatre both as an actor and director, the production has a special form that brings in mind musicals, and features the former students of the Hungarian Dance University and the artist of the Hungarian Acrobat Association.

An opera-musical in two acts, in Hungarian, with English surtitles.

The performance is not recommended for audiences under the age of 16.
This performance of the Liszt Fest is a joint event of the Hungarian State Opera and Müpa Budapest.
Eiffel Art Studios
1101 Budapest, Kőbányai út 30.
Eiffel Art Studios — Miklós Bánffy Stage
9 October, 2021 | 7.00 pm
Eiffel Art Studios
1101 Budapest, Kőbányai út 30.