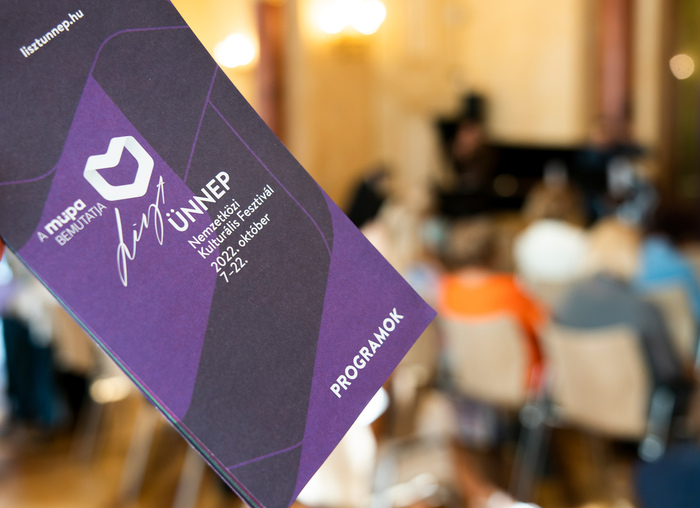 12. 09. 2022.
The festival of unforgettable experiences, special fusions and fresh initiatives is round the corner: Liszt Fest to start on 7 October
Stunning new productions, world premieres, eagerly awaited collaborations in classical and contemporary music, theatre and dance performances, free organ concerts, sensational jazz and pop formations, unmissable literary and visual arts events and mini festivals, brilliant soloists and companies from all over the world, from Iceland to Germany, the United States, Austria, the United Kingdom and Australia: the Liszt Fest International Cultural Festival starts on 7 October and runs until 22 October!
"There are artists of exceptional talent who both have an elemental influence on their own time and contemporaries, and shape many a later generation: Ferenc Liszt is undoubtedly one of these geniuses. The first Liszt Fest International Cultural Festival was a huge success, proving that we need all that Liszt's spirit represents more than ever. His creative freedom, his inventive art, his Hungarian identity, which he fully embraced, and his vision of the world are still exemplary today. This is why this year's Liszt Fest will again give a taste of the composer's unparalleled oeuvre, and will show, in a variety of genres, the 'Liszts' of the 21st century – the artists, who, with their accomplishments, innovative ideas and intense stage presence are defining the present and shaping the future. And these inspiring, forward-looking moments are especially needed in these challenging times," says Csaba Káel, CEO of Müpa Budapest, the organiser of the event series. Throughout its sixteen days, the Liszt Fest International Cultural Festival, he says, will present a host of exciting fusions between genres, as well as new productions, at venues that are key to culture and tourism in Budapest. 
The opening concert already of the event series is a real musical treat: the Modern Art Orchestra, led by Kornél Fekete-Kovács, will perform one of Liszt's most extraordinary compositions, Via crucis, proving that true masterpieces offer countless possibilities for interpretation. On 7 October, in the majestic space of St Stephen's Basilica, the wonderful American jazz singer Sherry Williams joins forces with Hungarian soprano Lilla Horti, composer and organist András Gábor Virágh, and organist Brian Charette, a leading figure of the New York jazz scene. Familie Flöz, the German company famous for the unmistakable worlds they conjure up on the stage and their expressive masks, return to Budapest with their latest show, Hokuspokus, which, for the first time in their history, reveals the humans behind the strange masks and eye-catching costumes. Choreographer Dóra Barta is to premiere Out of Time, a dance production inspired by David Grossman's hauntingly beautiful book, with music by two-time Grammy Award-winning composer Osvaldo Golijov.
Plácido Domingo, the doyen of opera will take to the stage with a programme especially dear to his heart, Víkingur Ólafsson, the outstanding Icelandic pianist comes to Budapest with the Orchestre symphonique de Montréal, and just a few weeks after the Vienna premiere, the Neue Oper Wien will bring its Das Gesicht im Spiegel (The Face in the Mirror) to Hungarian audiences. At a concert that celebrates the 150th anniversary of the founding of the Hungarian Wagner Society, the audience will be dazzled by one of today's leading Wagner singers, Michael Volle and our brilliant mezzo-soprano, Atala Schöck. Kálmán Oláh will play Liszt, while the Janoska Ensemble, known for its tempestuous improvisations and unique style, and adored by world stars, bring a programme of Bernstein, Bach, Beethoven, Bartók and others. Máté Bella, Balázs Kecskés D., Bence Kutrik, Roland Szentpáli and András Gábor Virágh – aka the Studio 5 Centre for Contemporary Music – drew inspiration for the five new works they now premiere from stages in the life of Liszt. The world-famous Rajkó Orchestra celebrates its 70th birthday at the festival, but the concert of Tcha Limberger and Lajos Sárközi Jr. will also amply demonstrate that the meeting of jazz, folk, gypsy, world and classical music can give rise to fantastic moments. Dániel Szabó and his partners promise a no less unforgettable evening with their Liszt and Virtuosity. 
Nor will jazz enthusiasts be left out of the fun this autumn: for the first time in his career, the outstanding saxophonist, bandleader and composer Ravi Coltrane will devote an entire concert to paying tribute to his legendary parents, John and Alice Coltrane. The winner of the large jazz ensemble category of Müpa's Composition Competition will be presented in the Béla Bartók National Concert Hall, at a concert that features Alex Sipiagin, Rick Margitza, Róbert Szakcsi Lakatos, József Barcza Horváth and the Hungarian Radio Symphony Orchestra. Vincent Peirani has played in duos and quintets, performing jazz, chanson and film music: this time he comes to the festival with a line-up that is new to him, a trio with Italian guitarist Federico Casagrande and New York-based Israeli drummer Ziv Ravitz. 
Liszt's charismatic stage presence and unprecedented fan base led many to regard him as the first pop star, so it's no surprise that the Liszt Fest will ensure to delight audiences interested in the stars of lighter genres. Isolation Budapest, a new event series co-organised by Liszt Fest and Akvárium Klub will make its debut with the concerts of Black Country, New Road, Westerman, Michelle Gurevich, Efterklang and Night Beats, among others. The Budapest Showcase Hub, or BUSH, will also bring together the representatives of the music industry and music lovers at the Liszt Fest to find the rhythm that the heart of the region is beating to, and to identify the latest and most interesting trends and phenomena in the international world of music. Hiatus Kaiyote, the out-of-the-box Australian band will also give its hotly anticipated concert at Akvárium Klub.
The Liszt Fest will again host the hugely popular Margó Literary Festival and Book Fair, with book launches, author-reader meetings and talks, as well as concerts by Magashegyi Underground, Platon Karataev, Henri Gonzo and Papírsárkányok. The lovers of the visual arts can also expect a prime selection of events: the Ludwig Museum presents a new exhibition, Smaller Worlds – Diorama in Contemporary Art, while Art Market Budapest, the most important international contemporary art fair in Central and Eastern Europe, and Hungary's largest art exhibition, will open its doors for the twelfth time in October 2022.
More news