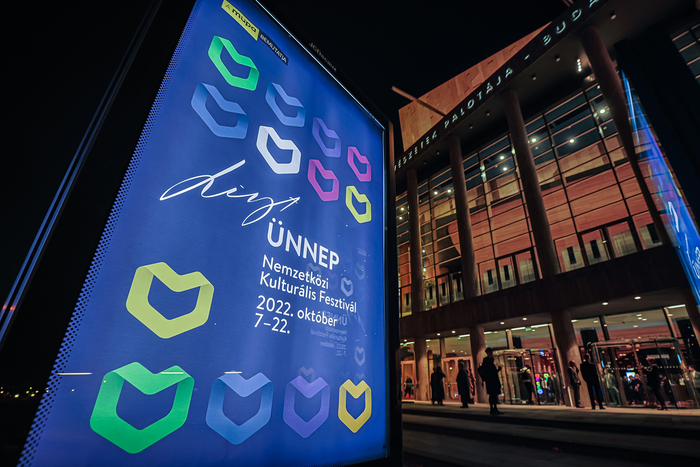 07. 10. 2022.
Unusual fusions, Hungarian and international stars – the Liszt Fest starts today! 
For sixteen days, the Liszt Fest International Cultural Festival adds zest to the cultural life of the Hungarian capital with world premieres, ensembles and soloists from around the globe, new productions created for the festival, free organ recitals, collaboration between classical and contemporary musicians, theatre and dance productions, jazz and pop music concerts, literary and artistic events.
The event series will kick off with a ground-breaking performance that combines jazz and classical music in St Stephen's Basilica: the Modern Art Orchestra, led by Kornél Fekete-Kovács, will perform an arrangement of Liszt's Via crucis with the participation of American jazz singer Sherry Williams, Hungarian soprano Lilla Horti, internationally acknowledged composer and organist Gábor Virágh András, and organist Brian Charette, a leading figure in the New York jazz scene. Another major concert of the festival is also attributed to Kornél Fekete-Kovács, Senza Nome, held at the Béla Bartók National Concert Hall and featuring the composer and trumpet player's award-winning work for jazz quintet and orchestra. The performers are outstanding soloists of the Hungarian and international jazz scene, Róbert Szakcsi Lakatos, József Barcza Horváth and Ferenc Németh, as well as Alex Sipiagin on flugelhorn and trumpet, tenor saxophonist Rick Margitza and the Hungarian Radio Symphony Orchestra.
After several memorable guest performances, Familie Flöz, who are known for their inventive theatrical solutions, return to Budapest with their latest production, Hokuspokus, which explores the meaty questions of creation with a unique sense of humour. For the first time, the German collective breaks with its traditions and shows who is behind the strange masks and costumes. Based on David Grossman's harrowing book, choreographer Dóra Barta's new dance theatre show, Out of Time explores a similarly momentous subject in an entirely different style and form, with music by two-time Grammy Award-winner Osvaldo Golijov. With Das Gesicht im Spiegel (The Face in the Mirror), the Neue Oper Wien presents a 21st-century paraphrase of the story of Pygmalion, with an unexpected twist: Jörg Widmann's opera explores the subject of cloning humans with consummate choruses and powerful visuals.
Opera legend Plácido Domingo will delight audiences with songs from a genre he "inherited" from his parents, the zarzuela, while the young Icelandic pianist Víkingur Ólafsson, who is becoming increasingly popular with Hungarian audiences, will be back at the Béla Bartók National Concert Hall with the Orchestre symphonique de Montréal, for what promises to be yet another tremendous concert. At a concert that celebrates the 150th anniversary of the Hungarian Wagner Society, Michael Volle, a leading Wagner singer of our time and Atala Schöck, the brilliant mezzo-soprano will perform a selection of arias and scenes from the great German composer's exceptionally rich œuvre. Kálmán Oláh brings reflections on and paraphrases of Liszt's works to the Liszt Fest, while the Janoska Ensemble, a family group known for its musical versatility, unparalleled improvisational skills and overwhelming energy, will take to the stage with a programme that includes works by Bernstein, Bach, Beethoven and Bartók. Composers Máté Bella, Balázs Kecskés D., Bence Kutrik, Roland Szentpáli and András Gábor Virágh – aka the Studio 5 Centre for Contemporary Music – will each present the first performance of a work that comments on one of Liszt's piano pieces and represents some stage and style of the composer's career.
The Rajkó Orchestra, considered one of the most prominent keepers of the gypsy music tradition in Hungary, celebrates its 70th anniversary during the festival, at a concert in Pesti Vigadó. With another unique fusion production at the House of Music Hungary, the Flemish-Sinti Tcha Limberger and Lajos Sárközi Jr will guide their audience through the shared universe of Kalotaszeg music and manouche jazz, while cimbalom player Dániel Szabó and his fellow musicians, including Miklós Lukács and Balázs Fülei, will evoke the popular musical taste and dance fashion of the 19th century through the formal language of folk music, at an evening entitled Liszt and Virtuosity.
To the delight of jazz fans, the Jazzical Trio will present an unusual song recital with the world-famous soprano Erika Miklósa: in addition to folk song arrangements by great Hungarian composers – Liszt, Kodály, Bartók –, the compositions of multi-Oscar-winning German-American composer André Previn will be revived in fresh jazz arrangements. For the first time in his career, the distinguished American saxophonist, bandleader, composer and producer Ravi Coltrane pays tribute to the invaluable musical legacy of his parents, John and Alice Coltrane, with a rather personal programme at the Béla Bartók National Concert Hall, with three more outstanding musicians, double bassist Rashaan Carter, pianist Gadi Lehavi and drummer Elé Howell on the stage.
For those who prefer lighter genres, there is a wide range of concerts to choose from: Isolation Budapest, a new event series jointly organised by the Liszt Fest and Akvárium Klub, will debut with Black Country, New Road, Westerman, Michelle Gurevich, Efterklang and Night Beats, as well as THE GOA EXPRESS, who performed at this year's Glastonbury Festival. The seventh Budapest Showcase Hub, or BUSH, will present the latest international music trends, while the first Hungarian performance of the extravagant Australian band Hiatus Kaiyote promises to be a refreshing, novel experience.
In addition to book launches, meet-the-author events and talks, the Margó Literary Festival and Book Fair will again be held under the auspices of the Liszt Fest, with concerts by Magashegyi Underground, Platon Karataev, Henri Gonzo and Papírsárkányok, and an evening at Müpa Budapest that is based on the work of last year's Margó Prize-winner Rita Halász, and features Hanna Pálos and Zoltán Beck. The visual arts will be represented at the festival by Ludwig Museum's new exhibition, Smaller Worlds – Diorama in Contemporary Art, and the 12th Art Market Budapest, the most important international contemporary art fair in Central and Eastern Europe.
More news